What they're saying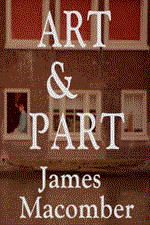 "I just had the pleasure of reading "Bargained for Exchange" and my hat is definitely off. I really identified with John Cann right from the beginning which is the mark of a good story teller. If you want a hell of a good read, by a damned good up and coming new thriller novelist, then Jim Macomber's "Bargained for Exchange" is your ticket. Walk, run, or drive to your nearest bookstore for James Macomber's "Bargained for Exchange" before they've sold out. Once you drop into Macomber's world, you better forget about doing much of anything else for a couple of days -you'll be hooked. Guaranteed!
David Hagberg (Sean Flannery), Best Selling Author of "Assassin", "White House", "Joshua's Hammer" and many more.
"The intricate plot spins out all its twists and turns and the reader is plunged into a world of political intrigue, Middle East issues, overwrought feminism, and academic machinations. 'Bargained for Exchange' works as a juggling act and a satisfying read." Sarasota Herald-Tribune
"Art & Part", the second John Cann adventure is Outstanding! The plotting is superb. The character development is excellent. The dialog is outstanding. The pacing is perfect. Macomber nailed it! Geoff Metcalf, Commentator, Talk Show Host, and Author
"With "Art & Part", Jim Macomber has done it again; another timely thriller ripped straight from today's headlines. "
David Hagberg (Sean Flannery), Best Selling Author of "Assassin", "White House", "Joshua's Hammer" and many more.
"In the league of guys like Clancy and Coonts. The characters are rich and well developed. The dialogue is engaging. The plotting and subtext are way cool."
Geoff Metcalf, Commentator, Talk Show Host, and Author
Even though Jim Macomber's first novel, "Bargained for Exchange", was written in 1996, it is spot on regarding today's events...perceptive, projecting many of today's policies and attitudes towards terror and the Mid-East geo-political situation as a former special forces operative turned lawyer finds himself embroiled in a terror, espionage, legal intrigue story that will keep you on the edge of your seat. Macomber also sends many great messages through his story. Honor, integrity, loyalty and commitment to truth and to what is right come across clearly while political correctness and expediency, barbarism, deceit and treachery are shown for the true dangers they are. I believe Macomber's work in this regard to be the equal or better of works by Clancy and Grisham...except Macomber combines both genres into one.
Jeff Head, author of the "Dragon's Fury" series.
An "edge of your seat", "can't put down" legal suspense thriller with frighteningly strong parallels to today's terrorist situation. Its multiple plot lines, alternating between a southern U.S. college campus, a Middle Eastern terrorist organization infiltrating the same college campus, and deadly events on the other side of the world, result in a fast-paced story line in the style of Tom Clancy and Stephen Coonts. I found Macomber's character development particularly memorable. John Cann's rough and tough exterior in one set of circumstances becomes compassionate and caring in another. His relationship with young student, Janie Reston, can bring the reader to tears. I am happy to hear that Macomber is working on his 3rd John Cann novel. As the Director of a small library in New York State, I see this first novel by James Macomber continually circulating and I hear comments from our patrons such as, "when is the next book coming out?" and "I've got 60 pages left to read and I can't wait to get home to finish". Macomber's intricately woven plot lines, along with his memorable characterizations, leave the reader demanding more. A must read set apart by its intelligent and articulate hero who is not your average tough guy and characters so real you feel them - for good or ill. Joan Tavernier, Director, NY Library, Filmore, N.Y.
"Bargained for Exchange" captured me from the very first page. Macomber has created a new level of international intrigue. From the Carolinas to the Middle East…and it all blends together. A new Ludlum and Clancy has arrived. Stanley Appel, Ph.D, Chairman and Director, FP Media Group.
"I am reluctant to give away any of the plot but will say this much....I found myself moved to tears over what happened...then felt tremendous anger. The last few chapters are page turners during which I found myself 'cheering' for John Cann against the bad guys. Imagine a novelist that combines Clancy's best 'thriller' skills along with the legal expertise of Grisham....that's James Macomber! Reader, Sarasota, Florida
Very original novel. While it is fiction, it was quite clear that the President and those running for Prime Minister of Israel referred to real people. It shows some of what is wrong in the Universities today and how the P.C. crowd has taken over. It ended with an exciting and satisfying climax. The characters seemed real, some likable, some the opposite. I appreciated Geoff Metcalf turning me onto the book and I cannot wait for his next one. Reader, Greenwood, CA.
This book was a gripping and compelling mystery. The international intrigue interwoven into a scandalous campus plot was unbelievably real and effective. I would recommend this book to anyone who enjoys a good murder mystery. Reader, Sarasota, FL
I couldn't wait to finish this book. There were elements of Ludlum and Clancy throughout. A fine read, well worth the time. Reader, Lakeville, MA
I'm no critic, but as someone who probably reads 125-150 novels a year, "Bargained for Exchange" will go down as one of the best I can remember lately. And the end, what a great twist!"
Reader, Ocala, FL
Bargained for Exchange" is the best book I have read in a very long time. Reader, Fremont, CA